Pasha Automotive Services Lands Fiat Contract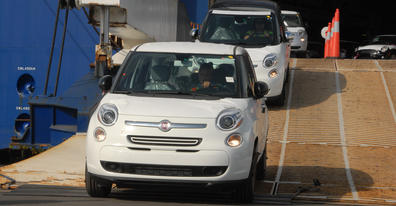 Thursday, July 18, 2013
First Fiats Arrive at Port of San Diego
Pasha Automotive Services (PAS), operator of the 135-acre National City Marine Terminal at the Port of San Diego, recently secured a new three-year contract for the receiving, processing and distribution of Fiat vehicles.  Manufactured in Europe, the first shipments are the Fiat Model 500L which joins the Fiat 500 line currently produced in Mexico.  The shipments are handled by the Grimaldi Group who will utilize NYK Steamship Line for these imports, with the vessel Demeter Leader bringing in the first 370 of these shiny new cars, along with a shipment of Volkswagens, Audis and Porsches. 
The offloading is provided by Pasha Stevedoring & Terminals, and after processing by PAS the Fiats will be trucked by Pasha Distribution Services to dealers throughout the western United States.  San Diego is the only port of entry on the West Coast for Fiat. View the video in the Media section for Automotive (courtesy of the Port of San Diego).
John Pasha, PAS Senior Vice President, credits the Fiat agreement to Pasha's longstanding relationship with Chrysler, which Fiat now owns.  It is anticipated that the annual volume will reach 40,000, with 12,000 Fiats expected through the end of 2013. Fiat is the latest brand to join the line-up of imported vehicles coming through the Port of San Diego, including Honda, Acura, Volkswagen, Audi, Mazda, Porsche, Lamborghini, Bentley, Lotus, Mitsubishi, Isuzu, Hyundai and Kia.