Port of San Diego First Stop for Shipment of Cars from Mexico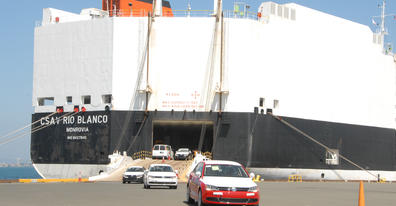 Friday, August 10, 2012
The voyage by Siem Car Carriers, operator of the liner service between ports in Mexico, the U. S. West Coast, China, Russia, Korea and Japan, underscores the increase in domestic and export car sales and the number of automobiles that are being processed at the National City Marine Terminal by Pasha Automotive Services.
"This is a great shot in the arm for Pasha, the Port and the automotive manufacturers and distributors," said Boyd Elder, the Marine Manager for Pasha Stevedoring & Terminals, which has been loading and unloading cargo and vehicles at the Port's National City terminal for more than two decades.
The number of vehicles arriving at the Port of San Diego has jumped 22 percent in the past fiscal year. The increase has meant that more jobs are available for Longshore workers who drive the cars off the ships. The Port of San Diego is the first point of entry into the United States for ships coming from the Pacific side from Mexico, Central and South America.
Miguel Reyes, Manager in the Port's Maritime Trade Development office, said the shipment of Volkswagens, which arrived at the terminal on Wednesday Aug. 1, 2012, "could be the start for other car companies. "Reyes said that the demand for new cars means there are more opportunities for transporting vehicles from Mexico, Central and South America. "In the future, we are hopeful this trend will lead to new business for the Port of San Diego," he said.
Siem Car Carriers is calling regularly, roughly every 18 days at San Diego. Siem operates five new Pure Car Truck Carrier vessels on the transpacific route with each ship taking about nine weeks to complete the roundtrip transpacific journey.
"What this regularly scheduled service means for the Port of San Diego and Pasha Automotive Services is that the Port of San Diego location can offer new and creative logistical solutions to the auto transportation industry and its customers," said Stan Gabara, Pasha's Executive Vice President of Automotive & Logistics. "What makes this unique is that manufacturers and distributors know that they can contact Siem for quick shipping, whether it's one, 1,000 or more cars per voyage."
Gabara said this method of transporting cars from port to port between California ports and ports in the Pacific Northwest is known as "Short Sea" shipping.
"With the auto industry poised for a come-back and more automotive manufacturing in North America, it is anticipated there will be a shortage for rail cars," Gabara said. "Short sea shipping is a proven transportation method. Siem Car Carriers offers competitive rates from Mexico to the U.S."
In the past, Pasha has handled and also chartered vessels to transport automobiles through National City for several vehicle manufacturers, including Honda, Chrysler, Volkswagen and General Motors. "What is different today is that SCC (Siem) with its regular service rotation without the need to "backhaul empty" to Mexico is more cost effective and competitive," Gabara said. Another reason is the ship's capability compared with trucks and the railroad.
"There are capacity constraints today in both rail and truck," Gabara said. "It's cost-effective, considering that you might not be able to quickly obtain the nearly 60 railcars needed for a shipment of this size." Stuart McMillan, the Port Captain for Siem Car Carriers and the man who determined where each of the Volkswagens would be parked on the ship's 11 decks, said 1,008 cars were delivered to the Port's National City terminal on that first voyage. They were driven off the ship by more than 20 Longshore workers called for the day-long job.
The Volkswagens that arrived aboard the CSVA Rio Blanco were shipped from Acapulco. The vessel then headed for National City and later to the Port of Grays Harbor in Washington, where Pasha also operates. From Grays Harbor, the ship makes the 14-day trip to Vladivostok, Russia, then to South Korea for one port visit, and China and Japan for stops at three ports in each country and then back to Mexico.
Siem Car Carriers transpacific shipping service focuses on the transportation of cars, high and heavy cargo and other types of cargoes. Its parent company, Siem Shipping, operates more than 80 other types of vessels worldwide.
Pasha Automotive Services has been operating at the Port of San Diego since 1990. It has grown from roughly 30 employees to several hundred and from processing about 30,000 vehicles to more than 400,000 in a single year.