Port Manatee event expected to pay off for partnership with Pasha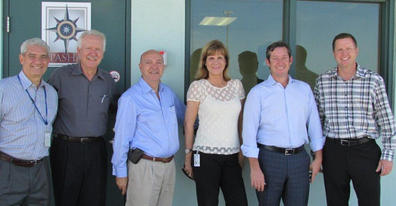 Monday, November 25, 2013
From left, Matty Appice of Port Manatee; Stanley Gabara of Pasha Automotive Service; Carlos Buqueras, Port Manatee executive director; Commissioner Carol Whitmore; John Pasha and Ben Buben of Pasha Automotive. 
Bradenton Herald
By Charles Schelle
The California-based company needs car makers, part makers and a laundry list of businesses with which to partner to make it successful. Having discussions with all those businesses could take months just to set up meetings.
Instead, Port Manatee brought about 15 executives across various sectors here for a two-day event to sell the automotive industry on partnering with Pasha.
"It's like bringing all the medical specialists in one room to diagnose what you need and what you have," Port Executive Director Carlos Buqueras said.
Each company represented a component of the global logistics and supply chain for automotive distribution, Buqueras said, including shipping experts, major auto manufacturers from Detroit and original equipment manufacturer part makers, or OEMs.
Pasha Automotive signed a memorandum of understanding in September to import cars for distribution in Florida. The company will bring them into a 174,000-square-foot warehouse plus provide parking to store cars on 45 acres with an option to expand to 100 acres. Finding car companies and suppliers is critical to finalize the deal.
Leaders were first wooed with a round of golf at IMG Academy's Golf Club before cocktails and a dinner at Sandbar Waterfront Restaurant in Anna Maria. Then last Monday a tour of the port finished off with lunch and a boat tour to Egmont Key, where the port uses the state park land as a pilot station. 
"It's a process -- not an event per se," Buqueras said. "Now these executives have to go back to their companies to tell them what they've seen and how excited they are about this."
The event was closed to the media, but public funds did pay for part of the two-day showcase. The port split costs with Pasha for the event, and estimates that it paid $3,416, said Dave Sanford, deputy executive director for the port. The cost could be well worth it, officials say, if they can get the 200 jobs Pasha plans to bring here plus the potential for more and millions of dollars in economic impact.
Hearing back from interested companies could take months as each has to map out routes and logistics, Buqueras said.
"They have to make sure the port fits within their needs," he said.
The port assembled a comprehensive gathering of vendors for this new port partner, and port officials would like to see more of these for ferry operations to Cuba and potential cruise ships to the Caribbean.
"Once you have a key player like Pasha or operator for a ferry service come in, all of the key players come into play," Buqueras said.
Most of the questions are about details the port is working on, Buqueras said, including bringing in a locomotive for port-to-rail operations, discussing the vast foreign trade zone land available and other improvements.
County Commissioner Carol Whitmore, chair of the Manatee County Port Authority, said executives were impressed with the port, including one who called its warehouses "Disney clean."
She said it was important for the companies to see that the port's governing body is supportive.
"They felt more comfortable as potential customers that the government entity of the port was supporting this venture," Whitmore said.
Charles Schelle, business reporter, can be reached at 941-745-7095. Follow him on Twitter @ImYourChuck.