Pasha Stevedoring & Terminals Takes Lead at PMA Safety Awards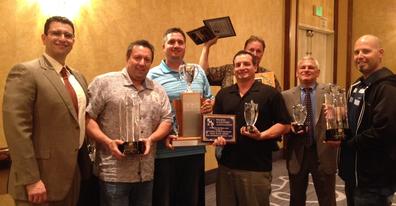 Wednesday, March 12, 2014
L-R: Mike DeMicco (Avizent), David VanWaardenburg (PST), Mike Abazis (PST), Rudy Kamppila (PST), Wray Bartling (PST), Chris Lopez (Avizent), Mark Kuha (PST); Avizent is PST's USL&H underwriter. 
PST-LA brought home seven PMA awards, including five 1st-place accolades.
Pasha Stevedoring & Terminals (PST) received top honors at the recent Pacific Maritime Association's Annual Safety Awards Banquet in Long Beach.
PST scored first place in the Coast Accident Improvement, Coast Class B Stevedore Accident Prevention, LA/LB Injury Rate Improvement Award, Coast Group C Mechanic Operations, and Coast Accident Prevention Award Group B, Stevedore Operations categories. PST was also recognized with Coast 3 Year Zero Incident and Coast 1 Year Zero Incident Awards.
"In 2012, we implemented additional safety precautions," says Bill McKinley, Senior Director. "The team not only made sure these particular rules were met, they also kept the cargo flowing at the same time. We are extremely proud of the PST team and their ongoing commitment to safety."