Pasha Inks MOU with Portsmouth Marine Terminal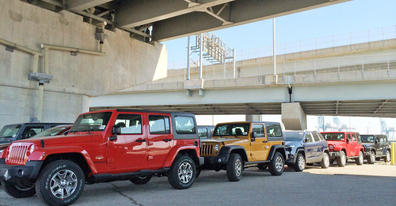 Tuesday, April 8, 2014
Article by Michael Welles Shapiro, courtesy of Daily Press
PORTSMOUTH — A long line of 700 Jeeps sat parked in a lot under an overpass in Portsmouth on a recent afternoon.
The vehicles had been moved by train from a Toledo, Ohio, plant where Chrysler manufactures Wranglers and Cherokees. They arrived on March 30 at a Norfolk Southern Corp. rail yard.
This week they were driven to the long-vacant Portsmouth Marine Terminal. Near the end of the month dockworkers will load them on a car-carrying ship bound for China.
PMT has been the subject of various commercial ideas: a pulp and paper warehouse, a wood pellet export business, a grain-handling facility.
None of those have come to fruition as of yet.
But a freshly inked deal announced Friday means that for at least six months, the Virginia Port Authority facility will be a car export terminal.
"This is a good first step of providing a 'proof of concept' to bring business back to PMT," said John Reinhart, VPA's new executive director, who also hinted at other opportunities for the Portsmouth facility.
"There is a lot of opportunity at PMT for the right users and this is one," he said.
The agreement involves multiple parties including Chrysler Group LLC, San Rafael, Calif.-based terminal operator Pasha Automotive Services, ocean carrier Siem Car Carriers transportation and Norfolk Southern.
"If all goes well, this could be the basis for a longer-term agreement," Reinhart said.
Pasha plans to send another 1,800 or so vehicles by train to Hampton Roads to join the 700 Jeeps already here.
International Longshoremen Union workers will be used to load the goods, according to VPA's announcement.
"Our goal is to provide a very high level of service and give Pasha Automotive reason to consider a long-term agreement," Reinhart said.
If a long-term deal is reached it would significantly boost the number of car shipments in Hampton Roads. The port authority already imports Nissans at its terminal in Newport News.