Pasha Hawaii's Jean Anne Scheduled to arrive with new Fords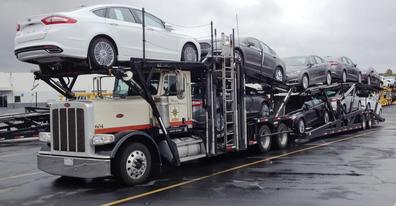 Friday, February 22, 2013
The week of February 25 sees the first shipment to Hawaii of new Ford Motor Company vehicles from San Diego by Pasha Hawaii. Under a recently awarded contract to Pasha from Ford, models destined for dealerships and rental car agencies in Hawaii are the Ford Edge and Fusion. Originating in Hermosillo, Mexico (Fusion) and Louisville, Kentucky (Edge), both product lines arrive in the Union Pacific Railroad yard at Mira Loma, California.
With tightly integrated business lines, the logistical services presented by Pasha provide a single point of responsibility from rail head to dealers -- a key factor in the award. Ford is the latest prestigious nameplate to join the list of Pasha's automotive customers shipping to and from Hawaii.
Pasha Distribution Services then handles truck delivery from Mira Loma to Pasha Automotive Services' port facility in San Diego. After delivery in San Diego, Pasha Stevedoring & Terminals is responsible for loading the Ford vehicles on Pasha Hawaii's Roll-On/Roll-Off vessel.