Pasha Hawaii: A Family Company Built on Innovation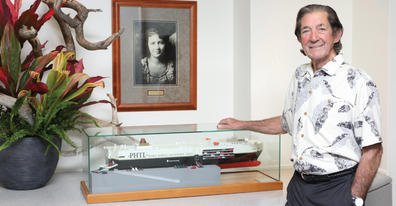 Saturday, May 24, 2014
Hawaii Business Founders & Visionaries
George W. Pasha III after graduating from the University of San Francisco became his father's business partner. In the 1940s, Pasha's father opened an auto service and repair station where he also stored vehicles for military personnel stationed overseas.
"As a visionary, he saw the opportunity to provide greater service and created an auto transport company to deliver vehicles for storage from Travis Air Force Base," Pasha says. "This became the foundation that gave the company the impetus to expand into extensive automotive processing and logistics for new and remarketed vehicles."
Today, The Pasha Group, of which Pasha serves as chairman, continues to follow the tradition of recognizing consumer needs and adapting the business accordingly. The third-generation, family-owned company has become known for its diversified global logistics and transportation services.
Pasha Hawaii specializes in roll-on/roll-off ocean transportation between the West Coast and Hawaii, and recognizes that serving customers best requires the company to serve its community as well. They've taken steps to increase fuel-consumption efficiencies and decrease their carbon footprint.
They also make listening to customers a priority. This actually led to the introduction of the company's first pure car/truck carrier for the Hawaii-Mainland trade lane, and it was this same tactic that led to the addition of the M/V Marjorie C. With this new vessel, the company will introduce weekly service later this year.
Adapting to consumer needs is business-as-usual for Pasha, whose growth has been attributed to meeting customer demands since the company's inception. In the past 10 years, the company has grown approximately 3.5 times and now has more than 1,000 team members in the U.S., Europe and Asia. But despite the size, the company still operates with a small-business mentality.
"Our culture is based on family values, which results in a fiercely loyal staff who enjoy working together and who work hard to support one another," Pasha says. "Safety and environmental responsibility are also big parts of our culture and vessel operations."