Pasha Hawaii Employees Welcome M/V Marjorie C to Honolulu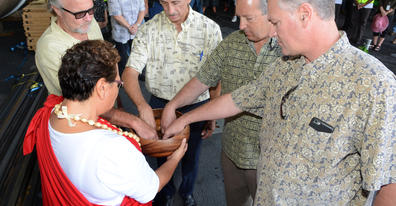 Thursday, May 14, 2015
Pasha Hawaii employees gathered at Pier 1, Honolulu Harbor this morning for a Hawaiian blessing and celebratory luncheon, marking the much anticipated arrival of M/V Marjorie C. Pasha Hawaii's new addition is a combination container/roll-on/roll-off (ConRo) vessel which represents a total $200 million commitment from the company into the Jones Act trade.
After more than three and a half years of planning and construction, Marjorie C began her maiden voyage from the Port of San Diego, California on May 8 for her home port of Honolulu. The ship sails under the name Marjorie C in honor of Pasha Hawaii's President and CEO George Pasha, IV's grandmother, Marjorie Catherine Ryan.
"Our family has always had a special connection to the Islands," said Pasha Hawaii President and CEO George Pasha, IV. "Hawaii is a place unlike any other where residents truly embrace the spirit of Aloha and a strong sense of 'ohana.
"In 1947, my grandfather started the first Pasha company in San Francisco, providing storage services to soldiers sent to Pearl Harbor. In 1961, my parents honeymooned at the Coco Palms on Kauai and three years ago, our family celebrated their 50th wedding anniversary on Maui. Throughout the years, we have enjoyed numerous family reunions in Hawaii. We are honored to name Honolulu as the home port for Marjorie C."
The 692-foot Marjorie C comes equipped with the latest technologies to reduce environmental impact. She has a 350 metric-ton ramp; has the capacity to carry 1,400 TEUs; can transport up to 1,200 vehicles; and can accommodate all sizes and types of containers and rolling cargo. She also has onboard cranes, allowing Pasha Hawaii to call ports and handle containers without onshore gantry cranes.
With its best-in-class cargo vessels and extensive shipping experience, Pasha Hawaii is set to establish new standards in shipping vehicles, trucks, boats, oversize cargo, and containers between the Hawaiian Islands and the West Coast.
In 2005, Pasha Hawaii first entered the Hawaii market with the then newly built 579-foot M/V Jean Anne, the company's first pure car/truck carrier. That same year, Jean Anne was named "Ship of the Year" by American Ship Review, while her crew and vessel operations have been recognized by the Chamber of Shipping of America with awards for outstanding safety and environmental achievement. Pasha Hawaii remains committed to supporting the charitable organizations and communities in which its employees live and work, as well as providing outstanding customer service.