Pasha Hawaii and Hawaii Stevedores donate $120,000 to Hawaii Foodbank and Hawai'i Resilience Fund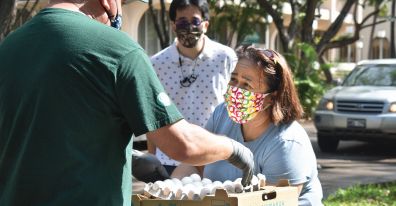 Wednesday, April 15, 2020
In response to the increased needs generated by the COVID-19 crisis in Hawaii, Pasha Hawaii has donated $50,000 to the Hawai'i Community Foundation's Hawai'i Resilience Fund and $50,000 in-kind ocean shipping services to Hawaii Foodbank. The donation was accompanied by a second gift by Pasha Hawaii's sister company, Hawaii Stevedores, Inc. who pledged $20,000 to Hawaii Foodbank.
"As the COVID-19 devastation continues to intensify and impact the lives of everyone in our State, so does the need for us to step up our support to non-profit organizations requesting our help," said George Pasha, IV, president and CEO of The Pasha Group, the parent company of Pasha Hawaii and Hawaii Stevedores. "The Hawai'i Community Foundation and Hawaii Foodbank are two of many community heroes who have increased their efforts ten-fold to serve as a safety net for those who need help the most. We are honored to support their humanitarian efforts and ask our fellow businesses and residents to join us, if they are able."
The Hawai'i Resilience Fund at the Hawai'i Community Foundation was created to rapidly deploy resources to local nonprofits and health care providers who are working on the ground to address the COVID-19 pandemic in Hawaii. As of April 9, more than $8.4 Million has been raised and $3.7 Million has been deployed. To date, grants to the community are helping to protect and support front-line health care workers, contribute to food distribution and economic relief for families, support vulnerable populations with home health-care visits, and more.
"The generous gifts from Pasha Hawaii to the Hawai'i Resilience Fund will help to slow the spread of the virus and contribute to our efforts to keep communities fed, safe, and protected, while also reducing the financial stressors that are arising for so many during this critical time," said Micah Kāne, CEO and president of the Hawai'i Community Foundation. "By working together, we can positively impact the well-being of everyone in our state."
"Since Hawaii's statewide 'stay at home, work at home' order was implemented on March 25, Hawaii Foodbank has experienced a 30 percent increase in need, a number that continues to rise as more than 200,000 residents file for unemployment and families who relied on free or subsidized school meals to keep their children fed are facing an even greater need," said Ron Mizutani, president and CEO of Hawaii Foodbank.
On Oahu alone, Hawaii Foodbank regularly distributes nearly one million pounds of food every month. With the added circumstances of COVID-19, Hawaii Foodbank distributed more than 1.4 million pounds in March, and projects this number to increase to 1.75 million to 2 million pounds in April.
For more information on, or to make a donation to, Hawaiʻi Community Foundation and the Hawaii Foodbank, go to www.hawaiicommunityfoundation.org or www.hawaiifoodbank.org, respectively.