Pasha Hawaii Achieves Main Engine Light Off for its New ConRo Vessel, the M/V Marjorie C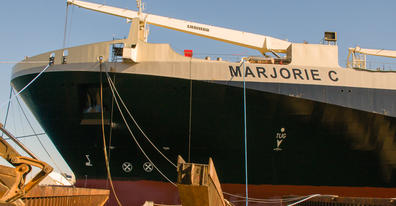 Wednesday, February 18, 2015
Honolulu-based Pasha Hawaii today announced the M/V Marjorie C has attained main engine light off while under final construction at VT Halter Marine, Pascagoula, MS. This important step leaves only the final milestone for the ConRo (combination container/roll-on/roll-off) vessel prior to delivery to Pasha Hawaii.
Main engine light off is a significant achievement with today's modern shipbuilding technology as it signals the complex network of ship systems is complete and all successfully working together. Sea trials are now anticipated before the end of the month, with vessel delivery to follow in March.
"This critical milestone celebrates the culmination of three and a half years of hard work and dedication by the men and women at the VT Halter Marine shipyard and Pasha Hawaii," said George W. Pasha, IV, President and CEO of The Pasha Group.
The addition of the Marjorie C to the Mainland/Hawaii trade lane represents a substantial long-term investment to the future of serving Hawaii. Pasha Hawaii's commitment of over $200 million to the Hawaii trade is also a large success for the Jones Act, exemplifying the growing trend of introducing modern vessels into the U.S. shipping industry and strengthening the economy with domestic maritime jobs.
Bill Skinner, CEO VT Halter Marine said, "We are proud to have achieved the last major milestone for delivery of the Marjorie C for Pasha. She is a significant Jones Act ship and we are proud to be associated with such a great company as Pasha. This Jones Act qualified ship along with other ships we are currently building are critical to the future of our shipyard as it is for other commercial US yards. Jones Act vessel construction represents over 80% of our business and keeps over 2,000 people gainfully employed year after year."
"Hawaii communities are highly dependent on reliable, efficient, and scheduled ocean transportation services," added Pasha. "We are pleased to soon offer weekly service with Marjorie C, sailing opposite the Jean Anne, and to provide our customers with new, complementary capabilities for containers and a wide variety of fully covered roll-on/roll-off cargo."