The Pasha Group's Acquisition of Horizon's Hawaii Business Cleared by the DOJ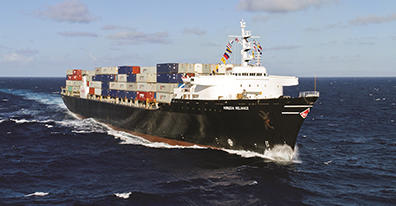 Wednesday, April 22, 2015
The U.S. Department of Justice (DOJ) has cleared The Pasha Group's acquisition of the Hawaii trade-lane business of Horizon Lines, Inc. (Horizon). The clearance paves the way for an anticipated final closing before the end of the second quarter. The Pasha Group, one of the nation's leading Jones Act shipping and integrated logistics companies, has been serving the Mainland/Hawaii trade lane since 2005.
Upon closing, Pasha Hawaii, a wholly owned subsidiary of the family-owned global logistics company, will assume operations for all of Horizon's Hawaii business, including Horizon's four U.S. flag container ships in the Hawaii trade lane.
In addition to the ships, The Pasha Group will also acquire Horizon subsidiaries Hawaii Stevedores, Inc.; the California-based operations of Sea-Logix, LLC, which provides trucking and warehousing services; and Sunrise Operations, a subsidiary that will include Horizon's vessels and Hawaii-based employees. After closing, Pasha will partner with Jacksonville, Florida-based Crowley Maritime Corporation to provide ship management of the vessels and crew through Crowley subsidiary Marine Transport Management, Inc.
In becoming part of Pasha, Horizon's Hawaii business will operate alongside Pasha Hawaii's existing operations, which include Pasha's two Jones Act-qualified vessels, the M/V Jean Anne and the new M/V Marjorie C. By expanding its operations with Horizon's Hawaii fleet, Pasha will be able to provide customers with a wider offering of high-quality, scheduled shipping and logistics services for containers, refrigerated containers, and a variety of roll-on/roll-off cargoes. "We are excited for the opportunity to welcome Horizon's Hawaii family of employees to the Pasha team," said George Pasha, IV, President and CEO. "I am confident that the combination of our two businesses will allow us to more effectively serve our new expanded customer base. I look forward to working together with all of our customers to assure we deliver solutions that meet and exceed expectations."
Pasha noted that the company plans to make significant upgrades to the Horizon fleet, and that environmental responsibility and stewardship will continue to be a major part of Pasha Hawaii's culture and vessel operations. The company will stay actively involved with local charities and organizations in the communities it serves.