Pasha Automotive Services to Process FCA US Imports via Lázaro Cárdenas to Port of Grays Harbor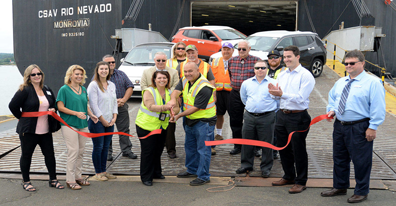 Wednesday, August 9, 2017
Photo: Dan Hammock, The Daily World
Pasha Automotive Services today announced that the company will provide a new volume of port-processing services at its Port of Grays Harbor facility for FCA US LLC, a member of the Fiat Chrysler Automobiles N.V. (FCA) family of companies, for vehicles shipping short sea from Mexico beginning this summer.
"Pasha's Grays Harbor location offers exceptional connectivity, combined with specialized vehicle-processing services," said Penny Eubanks, general manager. "Imports, especially landbridge, are attractive given the availability of rail equipment stranded at the facility from unit trains carrying in export business, and the ability to access two class 1 railroads from the terminal. The facility is also well positioned to save days of steaming time as an alternative for ocean carriers currently calling Portland and Seattle/Tacoma."
Since establishing operations at the Port of Grays Harbor in January of 2009, Pasha Automotive Services has processed over 500,000 vehicles and made significant investments in infrastructure, in addition to bringing new jobs and opportunities to the region.
"We are thrilled to support FCA US on processing and delivery of their vehicles to customers across the US," said John Pasha, senior vice president, Pasha Automotive Services. "FCA US has been a long-time customer, and it is an honor to help with their vehicle logistics via the Pacific Northwest and to elevate our local economy and workforce in Grays."
Pasha Automotive Services is a wholly owned subsidiary of the family-owned global logistics and transportation company, The Pasha Group, one of the nation's leading Jones Act shipping and integrated logistics companies.