Pasha Automotive Services partners with Port Manatee on Auto Terminal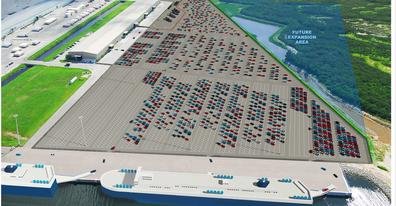 Thursday, September 19, 2013
A site of at least 30 acres at Port Manatee - new home for multipurpose Roll-On/Roll-Off terminal and vehicle processing facility for PAS.
PALMETTO, Fla. -- [September 19, 2013]  -- Positioning to serve automakers, carriers and others seeking the shortest route between burgeoning Mexican production facilities and Florida's nearly 20 million consumers, Port Manatee and The Pasha Group are partnering to develop and market a full-service, multipurpose roll-on/roll-off terminal near the entrance to Tampa Bay.
            "We see Port Manatee as strategic in our portfolio of key locations for the continued growth of our corporation for the long term," John H. Pasha, senior vice president for California-based Pasha Automotive Services, said as company and port officials signed a Sept. 19 memorandum of understanding.
            "Our vision is to continue beyond our current 67 years in the business and add Port Manatee as a state-of-the industry quality component in the supply chain for finished vehicles, project cargos and rolling stock," Pasha added. "Port Manatee offers a strategic Gulf Coast location for ocean access, facilities and distribution for both import and export automobiles."
            Pasha joined Port Manatee leaders in pointing to the fact that Port Manatee is the closest Florida port to Mexico's fast-growing vehicle manufacturing areas served by the ports of Veracruz and Altamira – thus offering transit times a day and a half or more faster than routes via vehicle-handling ports on the Atlantic Coast.
            "Port Manatee will be able to get autos and other cargos from Mexico to the Florida market faster and more cost-effectively than any other Florida port," said Carlos Buqueras, Port Manatee's executive director. "In addition, we anticipate export opportunities into Latin America."
            The initial agreement between the port and Pasha calls for joint marketing of a 172,500-square-foot vehicle processing facility and development of a terminal of at least 30 contiguous acres, expandable to as many as 100 acres. The site is to be served by an expanded Berth 12, which is 1,584 feet long, with 40-foot draft.
            Based upon Pasha's experience with operations at the ports of San Diego, Los Angeles and Grays Harbor, Wash., on the U.S. West Coast, as well as in Baltimore, the Port Manatee terminal and processing facility may be anticipated to generate significant favorable economic impacts. Pasha's automotive terminal operation at National City, Calif., which opened in 1990, currently employs more than 300 associates and is the No. 1 grossing maritime tenant for the Port of San Diego.
            "We are delighted to see this latest diversification of Port Manatee's capabilities, consistent with our long-term strategic plan, in a manner that supports well-paying jobs for our county," said Carol Whitmore, chairman of the Manatee County Port Authority. "Port Manatee looks forward to a long and fruitful partnership that provides benefits for the port, The Pasha Group, the automotive and shipping industries, Manatee County and beyond."
            Port Manatee is a multipurpose deepwater seaport near the entrance to Tampa Bay that serves bulk, breakbulk, container, heavylift, project and general cargo customers. The port generates more than $2.3 billion in annual economic impact for the local community, while supporting more than 24,000 jobs regionally, without the benefit of ad-valorem taxes.
            The Pasha Group, founded in 1947, is a global logistics and transportation services company providing total supply-chain management for finished and privately owned vehicles, marine terminal management and stevedoring, relocation services for the government and military members, and international logistics management for general commodity/project cargos.