Pasha Automotive Services Begins Custom Processing and Accessorization for 2018 Toyota Tacomas at National City Marine Terminal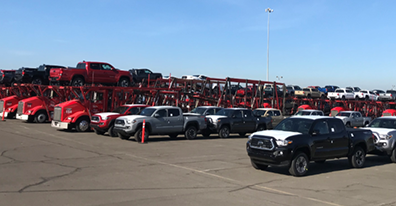 Thursday, January 18, 2018
Pasha Automotive Services kicked off the New Year by introducing specialized port-processing services for Toyota Motor Manufacturing de Baja California (TMMBC). Beginning January 3rd, 2018 Toyota Tacoma trucks arriving via auto hauler to National City Marine Terminal from TMMBC's Tijuana, Mexico plant will be greeted with a dedicated crew and body shop at the renowned Pasha facility.
"We are thrilled to welcome Toyota to our flagship vehicle-processing facility and to deliver our premier processing services in coordination with Toyota's specific requirements," said John Pasha, senior vice president, Pasha Automotive Services.
The new volume of vehicles will increase the local workforce at Pasha Automotive Services in National City with new jobs and provide advancement opportunities for the company's factory-trained personnel. Following processing and accessorization, the Toyota Tacoma trucks will then be transported from National City via Pasha Hawaii's Jones Act roll-on/roll-off vessels to Toyota dealers in Hawaii, or via rail and auto hauler to dealer destinations across the Continental U.S. and Mexico.