Pasha Automotive Services and the Port of San Diego sign 30-year TOA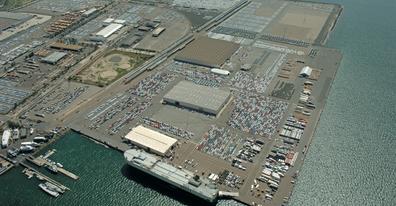 Tuesday, December 21, 2010
Partners in transportation since 1990, The Port of San Diego and Pasha Automotive Services announced that on December 7, 2010 a 30-year Terminal Operating Agreement for Pasha at the National City Marine Terminal was unanimously approved by the San Diego Unified Board of Port Commissioners. The agreement extends through December 31, 2040.
Pasha has committed to an investment of over ten million dollars in improvements over the life of the agreement, including the improvement of the 5.71 acre tank farm property adjacent to Quay Street, as well as the assumption of additional utility and maintenance costs. The continuation and expanded capacity of Pasha's operation will promote the Port's maritime industries to stimulate regional economic vitality, and enhance and sustain a dynamic and diverse waterfront.
Benefits to the Port include a minimum annual guarantee of revenue from the number of vehicles imported each year. The minimum annual guarantee is approximately $5.2 million during the first year of the new agreement, and increasing to $5.9 million from years five through nine. Additionally, Pasha will pay dockage, wharfage, and space occupancy charges, assume utility costs after 2011, and assume pavement maintenance on the terminal.
Pasha's new agreement with the Port will also bring new cargo opportunities for the National City Marine Terminal. Besides its automobile imports and transportation services, Pasha may pursue general cargo, as approved by the Port District.
"We are pleased to be doing business with Pasha for at least another 30 years," said Robert "Dukie" Valderrama, Chairman of the Board of Port Commissioners. "They have been a superior tenant to us and have brought in millions in revenue, which is ultimately pumped back into capital improvement projects in National City and the other member cities."
The new agreement offers long-term stability to existing and prospective clients of Pasha Automotive Services and the Port. John Pasha, Pasha Automotive Services Vice President, comments, "In 20 years this partnership with the port and our community has blossomed from 30 employees to several hundred, from 30,000 vehicles to more than 400,000 in a single year. There is no other West Coast solution like the National City Marine Terminal which includes five berths, capacity for 180 railcars on site, proximity to local and regional markets via truck or landbridge, a highly skilled and efficient workforce trained in over 200 accessories on more than a dozen brands and plenty of capacity to grow. Pasha is excited to call the Port of San Diego home for another 30 years!"
Pasha also benefits from its partnership under the Port District's Environmental Fund program. Grants allowed Pasha to acquire Mazda Tribute HEC vehicles and replace older, less fuel-efficient vehicles with 14 newer, more fuel-efficient vehicles, which has reduced annual carbon emissions by 100,000 pounds. A second grant awarded for a complete lighting retrofit replaced 1,399 fixtures, resulting in another annual 930,000 pounds lower carbon emissions.
Other Pasha entities are also doing their part to keep the Port green. With matching funding from the Port of up to $50,000 per replacement truck, Pasha Distribution Services replaced seven of its auto haulers with clean technology vehicles which are "Certified Clean Idle." Pasha Hawaii's vessel, the M/V Jean Anne has San Diego as its home port, and was one of the first vessels complying with a voluntary Vessel Speed Reduction Program to further reduce emissions in the Port area. Many environmental upgrades have been made to the Jean Anne, including the application of an Intersleek 900 coating with no biocide in the antifouling to pollute the water, and a considerable reduction in carbon dioxide emissions. New fuel processing equipment allows burning of marine diesel oil when she is within 24 miles of the California coast.
Pasha CEO George Pasha, IV, notes, "This new agreement is important in that it not only provides a long-term service solution for our OEM customers, but also for our company in supporting our investment in long-term assets such as the Jean Anne, which will serve the Hawaii market for at least 30 more years."
Having reached the four million mark in automobiles imported over the dock in San Diego, Pasha is celebrating 20 years at the National City Marine Terminal and looks forward to attaining the half-century mark in partnership with the Port of San Diego.