M/V Marjorie C Begins Service in the Mainland/Hawaii Trade Lane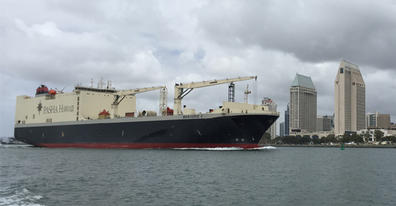 Thursday, May 7, 2015
Honolulu-based Pasha Hawaii today announced that the M/V Marjorie C has arrived to begin her maiden voyage from the Port of San Diego, California to Honolulu, Hawaii. The new Marjorie C is a combination container/roll-on/roll-off (ConRo) vessel which represents a total $200 million commitment from the company into the Jones Act trade. The ship sails under the name Marjorie C in honor of Pasha Hawaii's President and CEO George Pasha, IV's grandmother, Marjorie Catherine Ryan.
"After more than three and a half years of planning and construction, we are pleased to unveil a ship that has been designed to not only accommodate the varying needs of our customers, but a vessel that minimizes our carbon footprint through extensive fuel consumption efficiencies and other green technologies," said Pasha Hawaii's President and CEO, George Pasha, IV. "With the addition of Marjorie C, we can now offer customers increased service and capacity between the West Coast and Hawaii trade lane on vessels providing superior reliability and cargo protection."
Following Marjorie C's first visit to San Diego, she will sail to Honolulu, Hawaii, her home port.
In addition to being equipped with the latest technologies to reduce environmental impact, the 692-foot Marjorie C has a 350 metric-ton ramp; has the capacity to carry 1,400 TEUs; can transport up to 1,200 vehicles; and can accommodate all sizes and types of containers and rolling cargo. She also has onboard cranes, allowing Pasha Hawaii to call ports and handle containers without onshore gantry cranes.
With its best-in-class cargo vessels and extensive shipping experience, Pasha Hawaii is set to establish new standards in shipping vehicles, trucks, boats, oversize cargo, and containers between the Hawaiian Islands and the West Coast.
"Marjorie C is a magnificent Jones Act vessel that was built on U.S. soil by hundreds of dedicated employees at VT Halter Marine," continued Pasha. "It's important we continue to support our economy and domestic maritime industry. Marjorie C is proof we have the technology, expertise and resources to build a superior ship within the U.S."
For Pasha Hawaii, Marjorie C represents the second ship built by VT Halter Marine, using a proven design by Uljanik Shipyard in Croatia.
In 2005, Pasha Hawaii first entered the Hawaii market with the then newly built 579-foot M/V Jean Anne, the company's first pure car/truck carrier. That same year, Jean Anne was named "Ship of the Year" by American Ship Review, while her crew and vessel operations have been recognized by the Chamber of Shipping of America with awards for outstanding safety and environmental achievement.
Pasha Hawaii is a wholly owned subsidiary of the family-owned global logistics and transportation company, The Pasha Group, one of the nation's leading Jones Act shipping and integrated logistics companies.