Mayor Eric Garcetti unveils new push toward greener Port of Los Angeles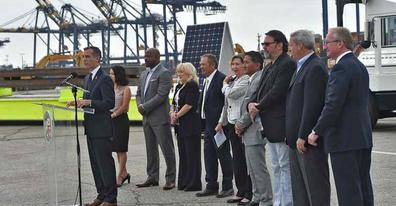 Wednesday, July 13, 2016
Article courtesy of Daily Breeze
By Rachel Uranga
Against the backdrop of a Port of Los Angeles terminal where a costly, massive experiment in green technology is unfolding, Mayor Eric Garcetti and port officials Tuesday offered their latest effort to push the region toward a greener future.
Garcetti announced the formation of a 10-member freight advisory committee — made up of environmentalists, shippers and community members — focused on reducing emissions.
"Ultimately, it's I and the commission who should be held accountable," he said. "But they will be the engine of what we want to do."
Garcetti has set a goal of increasing the percentage of goods-movement trips that use zero emissions to 15 percent by 2025.
Shifting to low emissions
And while the committee will have little power to make changes, one of the issues it will tackle is at the center of a larger problem confronting local and state officials: how to get the more than $700 billion freight-dependent shipping industry to transition from diesel trucks and ships to zero and low-emissions alternatives.
That question is looming large now as Gov. Jerry Brown, who has staked his legacy on reducing greenhouse gases and moving toward zero-emission vehicles, is set to release a final Sustainable Freight Strategy later this month.
In the draft report, he set targets to deploy 100,000 zero-emissions vehicles or equipment by 2030 and push toward improving freight efficiency 25 percent by then.
One of the region's biggest hopes is the $26 million Pasha Green Omni Terminal Demonstration Project, which is about to break ground at the center of Southern California's shipping industry, the Port of Los Angeles.
Funded with $14.5 million from mostly cap-and-trade dollars and by private cargo handling company Pasha Stevedoring and Terminals L.P., the project is one of the region's most ambitious efforts to create a near-zero emissions terminal.
Regional benefit
The port, the largest stationary source of pollution, could dramatically cut pollutants that form ozone and cause respiratory problems for neighbors if it was able to transition toward these types of technologies. Moreover, moving toward cleaner trucks could help reduce pollution along the 710 Freeway and all the way to the Inland Empire, where there are clusters of distribution centers.
"We don't have to choose between one and the other; we can have healthy communities and a healthy port," Garcetti said, as he stood below a solar panel at the Pasha terminal, hundreds of which will fill a nearby warehouse and charge the batteries of zero-emission trucks and tractors when the project is complete. "It's an unacceptable price to pay for a bustling port."
Health concerns
Communities around the ports have higher rates of asthma and respiratory illness.
"This is groundbreaking work," he said, noting that the cleaner burning equipment when fully up is the equivalent of taking 14,000 cars off the road.
Freight that moves cargo to and from seaports, railyards, warehouses and distribution centers account for about half of all toxic diesel exhaust and 45 percent of ozone-forming nitrogen oxides in the state. But the ports of Los Angeles and Long Beach have reduced diesel particulate matter emissions by 80 percent, in part through a series of measures implemented over the past decade that include having ships move into port more slowly and plug in rather than idle, and the push for cleaner trucks.
"We have effectively gone after the low-hanging fruit," said Gene Seroka executive director of the Port of Los Angeles.
"To do more over the next decade, however, we need to focus on technology and a strategy that will push the envelope and provide our port industry sustainable pathways to cleaner operations and equipment."
Operate off the grid
The Pasha project is considered the showcase of green technology for the shipping world and it's one that California and the nation is likely to keep their eyes on.
Chosen in part because it can handle large pieces of equipment that don't fit in containers, it will be powered by a 1 megawatt solar panel system that will allow the terminal to operate off the grid in case of an emergency, like a major earthquake.
It also will be equipped with four electric yard tractors, two 21-ton forklifts and two wharf crane upgrades.
San Diego-based TransPower, which manufactured the vehicle systems, places the cost of a prototype big rig at $450,000 and the yard tractors at about $335,000.
With average semi-trucks costing about $125,000, those high costs have kept the industry from fully embracing the new green technology.
"These are highly engineered, small-volumed, manufactured specialty conversions of new diesel vehicles," said Joshua Goldman, vice president of business development for the company. "As we continue to work more with vehicle truck manufactures to increase volumes, it will drive down vehicle costs."
At the same time, he said, the costs of batteries have fallen dramatically. For instance, five years ago an electric battery cost his company $1,000 per kilowatt hour. Now, the equivalent of a kilowatt hour is less than $600 and the auto industry expects that to fall to $200 a kilowatt.