MARAD and Pasha Stevedoring & Terminals Continue Partnership on Demonstration Project for Powering Microgrids at the Port of Los Angeles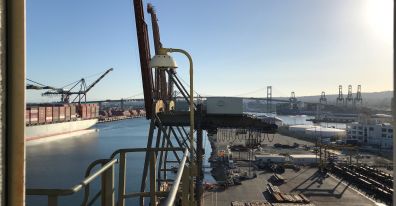 Tuesday, August 2, 2022
The U.S. Maritime Administration's (MARAD) Maritime Environmental and Technical Assistance Program (META) and Pasha Stevedoring & Terminals L.P. (PST) recently entered the second quarter of progress powering microgrids at the Port of Los Angeles following a $1.5 million cooperative agreement in Spring 2022. PST is an independent operating subsidiary of The Pasha Group, on a Port Alternative Energy Demonstration Project for Powering Microgrids, aimed at decreasing air emissions from marine terminal operations at the Port of Los Angeles (LA).
In 2016, PST partnered with the Port of LA to secure $14.5 million in funding from the California Air Resources Board (CARB) to develop the Pasha Green Omni Terminal Demonstration Project, a multi-faceted advanced technology demonstration project focused on the utilization of electric yard tractors, forklifts, and on-road drayage trucks as an introduction to zero emission vehicles. It also included a solar system, battery energy electric storage system, and prototype emissions capturing projects.
The cooperative agreement with META expands on the Green Omni Terminal Demonstration Project by incorporating additional green energy sources to charge the current 2.4 MWh battery storage system. These energy sources include a 1 MW DC solar system, the outfitting of three ship to shore container cranes with regenerative braking capability, and an 18 kW WindWall micro turbine that will be installed on top of one of these three ship to shore container cranes—the first WindWall micro turbine to be used in commercial application. Combined, these energy sources, along with an effective energy storage system, and a microgrid controller are expected to reduce emissions substantially and provide resiliency to the Port of LA. 
This system is designed to enable islanding of the Pasha Green Omni Terminal. The battery storage system has enough energy to unload a ship in island mode, while the solar array is estimated to produce 81% of the Pasha Green Omni Terminal's current requirement. 
In addition, the installation of harmonic filters on the ship to shore cranes will allow braking regeneration power to charge the battery storage system and lower the crane's energy requirement by 45%.
The 18kW WindWall Microturbine being installed on top of the ship to shore crane takes advantage of the crane's height where winds are more favorable, resulting in increased energy production. This will be the first utilization of micro wind turbine technology being mounted on top of a ship to shore container crane. Once the proof of concept of using this technology in this application is completed, larger WindWalls can be installed to provide additional energy to meet future energy needs as more terminal equipment is converted over to electric. 
Once complete, the Port Alternative Energy Demonstration Project for Powering Microgrids is expected to reduce CO2 greenhouse gas emission annually by 1,072 MTe and also reduce other associated emissions. 
"The Maritime Administration is proud that our Maritime Environmental and Technical Assistance (META) Program is supporting Pasha's microgrid project at the Port of Los Angeles, which uses renewable energy sources to support cargo handling operations," said Maritime Administrator Ann Phillips. "This is just one example of how renewable energy can help power the maritime and transportation sector to reduce greenhouse gas emissions and fossil fuel dependence while combatting climate change."
"As one of the nation's leaders in transportation and logistics management, Pasha is uniquely positioned to demonstrate the ability to integrate microgrid capabilities across all aspects of maritime and port terminal operations," said George Pasha, IV, President & CEO, The Pasha Group. "Taking place at the busiest container port in North America, this microgrid expansion project will seek to deploy additional technologies to expand the microgrid's capabilities to interact with all aspects of port operations, providing a road map to create an energy net zero terminal that can then be applied to other terminals across the U.S."