Main Engine Factory Acceptance Testing Completed for the M/V George III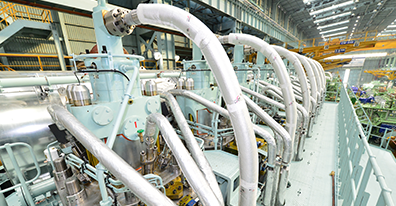 Tuesday, March 5, 2019
Honolulu, HI-based Pasha Hawaii today announced that factory acceptance testing of the dual-fueled, MAN Diesel & Turbo ME-GI (-Gas Injection) main engine has been completed for the M/V George III, the first of two Liquefied Natural Gas ("LNG") fueled containerships being built at Brownsville, TX-based Keppel AmFELS. The two 'Ohana Class vessels will join the Pasha Hawaii fleet, which provides service to the Hawaii/Mainland trade lane.
The 7S80ME-GI Mk 9.5 main engine will meet Tier III emission standards by use of an Exhaust Gas Recirculation system. Successful testing of the three MAN 6L35/44DF GenSets were also recently completed.
Both the main and auxiliary engines for the M/V George III were tested on LNG and diesel fuel, as the two new 774-foot U.S. Jones Act, 'Ohana Class containerships will operate fully on LNG from day one in service. Each vessel will carry 2,525 TEUs, with a sailing speed of 23.0 knots. Delivery of the vessels is expected in 2020.