CSCMP presents the 2023 Supply Chain Sustainability Award to Pasha Hawaii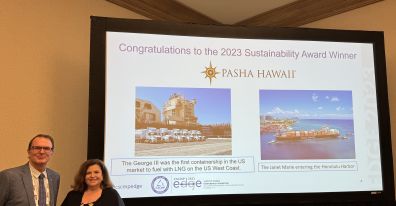 Monday, October 2, 2023
Lombard, IL (October 2, 2023) - The Council of Supply Chain Management Professionals (CSCMP) presented the 2023 Supply Chain Sustainability Award to Pasha Hawaii at the EDGE 2023 Supply Chain Conference & Exhibition in Kissimmee, Florida.
The annual Supply Chain Sustainability Award honors an individual or team who exemplifies significant, positive, and genuine impact in advancing environmental, social and/or economic sustainability in the supply chain.
On August 17, 2022, Pasha Hawaii entered into service the first of two new 'Ohana Class container ships to operate on natural gas. Called MV George III, this 774-foot Jones Act vessel became the first Liquified Natural Gas ("LNG") powered container ship to serve the Hawaii/Mainland trade lane. One year later, on July 12, 2023, Pasha Hawaii welcomed its second 'Ohana Class natural gas-powered container ship to its fleet called MV Janet Marie.
In 2014, Pasha Hawaii's executive leadership was challenged by the late George Pasha, III to assemble a team and construct a commercially viable vessel that would represent the environmental stewardship of the company. Led by current President and CEO George Pasha, IV and Senior Vice President, Fleet Operations Edward Washburn, Pasha signed a contract with Texas-based AmFELS for the vessel's construction. Construction and design began in the fall 2018.
Operating on LNG from day one, George III and Janet Marie are the most environmentally friendly and energy-efficient container vessels to service the California/Hawaii trade lane. In addition to designing and building one of the world's cleanest and most technologically advanced container vessels, Pasha Hawaii, in a joint venture with West Coast Clean Fuels, also designed and built LNG fueling infrastructure to serve Long Beach, California for the ships since none existed in California or Hawaii.
The company's vision was to build a ship, specifically designed and optimized for the California/Hawaii trade using a sustainable local fuel source. LNG was selected as the primary fuel as it is locally sourced in California, which minimizes transportation carbon footprint, and it is the most environmentally friendly sustainable fuel available for high horsepower applications required for ocean-going container vessels. Using LNG as the fuel source for the 'Ohana Class vessels results in a reduction of SOx emissions by 99.9%, NOx emissions by 90%, Particulate Matter by 99%, and CO2 by 25%.
Once the Pasha Hawaii team selected LNG as the primary fuel source, they committed to designing and building the fueling infrastructure for these 'Ohana Class vessels as there were no means to bunker or fuel these ships with LNG in California or Hawaii. The design of this fueling process truly encompasses the minimization of environmental impact from "Well to Wake". 
The LNG is locally sourced, transported from the source via LNG powered trucks to the terminal, and then pumped into the vessel's tanks using Pasha's custom-designed LNG pump skid. This fueling process and supporting infrastructure provides the ability to not only service the company's 'Ohana Class vessels but also for future LNG-powered vessels for Pasha Hawaii and other ship owners.
In addition to using LNG as the most environmentally friendly fuel source, the 'Ohana Class vessels' hull form, propeller, and rudder were designed from scratch and may be the most efficient hull form in commercial trade today. This design went through numerous computer simulations and hull/propeller/rudder form testing with continual improvements until the optimal design was found. This, along with state-of-the-art equipment, from bridge navigation gear to emission reduction technologies throughout the vessel with the focus on energy efficiency and emission reductions, the 'Ohana Class vessel has far exceeded the upcoming 2030 IMO emission regulations.
About the Award
This is the fourth year that CSCMP has presented the award. As part of CSCMP's Board of Directors initiative to commit to supply chain sustainability through educating and connecting professionals in a way that allows for responsible and informed decision making.
The Supply Chain Sustainability Committee, headed by CSCMP Board Member Greg Skrovan, created this award and guidelines to recognize supply chain professionals that are making concerted and strategic efforts to make sound and measurable economic, environmental, ethical, and socially responsible decisions in the supply chain. Award candidates are nominated by a colleague or associate.
Any individual or team who exemplifies significant, positive, and genuine impact in advancing environmental, social, and/or economic sustainability in the supply chain. This includes their work that inspires others and stands out in the supply chain profession. Additionally, an individual or team who has made significant contributions to the fields of logistics and supply chain management is available to receive the Supply Chain Sustainability Award. This includes practitioners with responsibilities in functional areas of logistics and supply chain management, consultants, and educators.
Nominees are evaluated based on the following elements: Vision; Innovation; Impact; Execution quality; Execution speed; and Stakeholder engagement.
About Pasha Hawaii
Pasha Hawaii, an independent operating subsidiary of The Pasha Group, is one of the nation's leading domestic ocean shipping companies serving Hawaii from the continental United States. The company operates a fleet of fully Jones Act-qualified vessels and operates out of multiple port terminals. Pasha Hawaii is a trusted partner for many of the nation's leading retailers, manufacturers and U.S. government agencies, providing reliable containerized and roll-on/roll-off cargo services that leverage its unique combination of ocean transportation and inland distribution capabilities to deliver goods that are vital to the people of the State of Hawaii and the prosperity of the Hawaii market it serves.
About CSCMP
Since 1963, the Council of Supply Chain Management Professionals (CSCMP) has been the leading worldwide professional association dedicated to education, research, and the advancement of the supply chain management profession. With more than 8,500 members globally, representing business, government, and academia from 65 countries, CSCMP members are the leading practitioners and authorities in the fields of logistics and supply chain management. To learn more, visit cscmp.org and find CSCMP on social media: Twitter, Facebook, LinkedIn, CSCMPTV, and Instagram.