Buddhas on the Move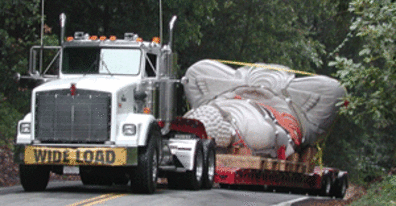 Friday, March 15, 2002
International Triax, a Division of The Pasha Group, recently completed an exciting project of delivering three oversized Buddha statues to the Kim Son Monastery-Meditation Center in the Santa Cruz Mountains.
Originally transported from Vietnam, the statues were carved out of solid white stone and ranged in size from 7.5' tall to over 16' feet tall, the largest of which weighed 67,000 pounds.
International Triax devanned the statues at their Port of Oakland warehouse facility and loaded them for transport with the assistance of two 70-ton cranes. Leaving the main highway south of Gilroy, the vehicles navigated 30 miles of hairpin turns and a significant rise in elevation to reach the secluded monanstery.
The two cranes were also necessary for bringing them upright and placing them at their new mountain retreat. The Kim Son Monastery-Meditation Center is not expected to officially open until 2004.
Acquired by The Pasha Group in January of this year, International Triax specializes in consolidating general commodities, oversized cargo handling, automobile export handling to niche markets, container loading and devanning, export packing and distribution services.