Pasha Hawaii Delivers 25th CAB Black Hawks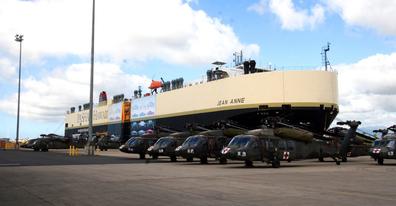 Wednesday, February 19, 2014

Article courtesy of TRANSLOG: The Journal of Surface Deployment and Distribution
Story and photo by Donna Klapakis, 599th Transportation Brigade Public Affairs
WHEELER ARMY AIRFIELD, Hawaii — The end of a long wait for inbound helicopters came for the 25th Combat Aviation Brigade, 25th Infantry Division, on Feb. 12 after the offload of new UH60M Black Hawks from the Motor Vessel Jean Anne at Pearl Harbor.
"This is the last evolution of the new equipment, the UH-60M model," said John Manahane, 599th Transportation Brigade traffic management specialist. "Today they offloaded the final 14 of 45 combined. This movement started with the first evolution in September."
"This completes the fielding and transfer of ownership from the Aviation and Missile Command to the 25th Combat Aviation Brigade, 25th Infantry Division," Manahane added.
After offloading the new helicopters, Soldiers from the 209th Aviation Support Battalion supported loading 23 of the CAB's legacy UH-60A and -L models onto the Jean Anne for retrograde to the mainland for further disposition.
"This kind of joint operation requires very careful coordination," said Manahane, who was acting as liaison for all groups as part of his single-port-manager duties. "We have the CAB, which supports the actual loading and offloading of its helicopters, the Fleet Logistics Center, Pear Harbor, which is providing the facility, and our commercial shipping industry, which provides the transport."
In addition to fulfilling single-port-manager duties at Pearl Harbor, the 599th Transportation Brigade also conducted leadership professional development for any personnel who could attend during the port operations.
"Leadership development is always a good thing to do, not only for NCOs and officers, but for the civilian workforce, too," said Command Sgt. Maj. Claudia Shakespeare, 599th Transportation Brigade senior enlisted advisor. "This was a great opportunity to take our workforce out to see and hear how our missions are conducted. Having a vessel dock and helicopters loading and unloading improved everyone's firsthand knowledge of what we do."
"This was a combination of a commercial ship at a Navy port with Army Soldiers supporting loading and offloading their equipment," said Daniel "Danny" Martinez, 599th Transportation Brigade deputy director of operations. "From my perspective the leadership development was useful to see how all of the teams come together to work as one."
Manahane said the Jean Anne arrived at Pearl Harbor at 7:30 a.m. on Feb. 12, and the first piece of cargo was offloaded at 8:35 a.m. The final pieces were loaded at 4:45 p.m., and the ship departed at 5 p.m.

Full article: http://translog.armylive.dodlive.mil/2014/02/19/599th-offloads-25th-cabs-new-black-hawks/ [1]